Alex Broad
The Family Stone
Alex, UC Berkeley MLA '20, shares a collection of drawings and archival images, a project he intends to incorporate into a graphic novel on his family's history.
I am a Yonsei (4th generation Japanese American). My full name is Alexander Yamashiro Broad. Yamashiro, meaning "Mountain Generation", comes from my maternal grandfather, Jack Yamashiro. My grandmother was Rose Tsuneishi, meaning "Eternal Stone". Both Jack and Rose were born and raised in Los Angeles in the 1920s.
Despite our deep roots in California, my family has a complicated relationship to America. I was raised on stories of my grandparents' detainment and incarceration during World War II in internment camps far from their homes in Los Angeles. My grandmother, Rose Tsuneishi, was only 12 at the time. She had never been to Japan, or spoke the language - yet the U.S. government suspected her and all other Issei (First Gen) and Nisei (Second Gen) like her of being traitors. The youngest of 9, Rose and her family were detained first at Pomona Fairgrounds, and then in Heart Mountain, Wyoming at what became known as a Relocation Center. Her older siblings were able to get time away from the camp - the boys could enlist, and her two older sisters also helped as Japanese translators. However, one of her brothers became very sick at camp with polio, and he and their mother were transferred to an internment camp in Arizona in the hope that the warmer climate would save him. This left Rose with one brother and her father, Satoru, who she remembered as often absent.
My grandmother often spoke of the deep sadness of feeling neither connected to the country of her birth nor the country of her heritage. At the end of her life, she lived in a retirement home for the Nisei community in Los Angeles. She once remarked bittersweetly: "I haven't been around so many Japanese folks since camp!"
My project is inspired by the stories I heard from my Grandma Rose and her siblings about their time at Heart Mountain. There are so few pictures of my family during this time - I look through photos from the relocation camp and imagine they are people who knew my family. By drawing this landscape, I hope to better understand that time in her life. Rose and her siblings each have such a unique perspective on this era, I think this project could eventually grow to include multiple characters inspired by them.
I also seek to remind people that the detention centers currently holding immigrants along the border are not new - this is a tactic that has been often employed throughout this country's history. My great-grandfather, Satoru, was dispossessed of his land and relocated away from home (another tactic commonly used by the US government). When I think about the stereotype of Japanese/Asian Americans - meek, submissive, obedient - I am reminded that these traits were drilled into my family through imprisonment, and into American culture by propaganda. I'm left wondering if that is the price of assimilation into American culture.
I am a victim of sexual harassment. The incident occured during my internship at a Landscape
Architecture firm in Southern California. I received an unwanted kiss by the firm leader.
Unfortunately, I didn't report the event or spoke about it to any of my colleagues or friends in the
field until fairly recently. I'll never forget how I felt that day - powerless over my own body by a
professional who was held in high esteem by most of his peers.

I knew that the best thing to do was to leave the firm and I felt it was best to stay quiet because
sharing the truth may result in damaging my own reputation. As a woman of color, the odds are already against me. Who would take my story seriously? Who is willing to protect me and other
women of color and/or women in the field that are victims of sexual assault?

I find healing through volunteering my time to help other students. I worry that because this
happened to me - it could happen again. I hope that one day professional leadership will listen
to women of color when we speak our truth and support us women when we face issues of
sexual harassment and/or sexual assult in the workplace. Apologies are not enough.
Mafe Gonzalez
Rainbow People
Mafe, UC Berkeley MLA '22, shares her reflection on what it means to be a person of color in the US.

Illustrations by Mafe, Rose Joseph, Megan Bradley, Felix de Rosen, and Bradley Tomy.
Yo crecí en Colombia, un país donde la vasta mayoría de la población es, desde la perspectiva de Estados Unidos, "gente de color". Por supuesto no usamos este término, nos identificamos más con la palabra "mestizo", que en su significado más profundo representa una larga historia de combinación cultural. Cuando llegué a UC Berkeley fui clasificada como una estudiante "minoría" y "persona de color". Esta clasificación fue muy extraña para mí porque nunca me identifiqué con un grupo por el color de mi piel, porque siento que pertenezco a una gran "mayoría" latinoamericana; porque aquí en US he visto latinos de piel blanca como la leche, pero clasificados como "persona de color", he visto "blancos" de pieles doradas y a veces hasta achocolatadas; he visto "gente de color" con mentalidad "blanca" y he visto "blancos" con mentalidad mestiza.
Luego de la clasificación asignada me enfrente a la segregación, a las barreras que la misma clasificación crea, al peso cultural de ser "minoría". Mi antídoto fue auto clasificarme como "persona arcoíris" e incluir en esta categoría toda la gama de colores que existe en pieles, corazones y mentalidades.
Después de tratar de entender estas clasificaciones raciales, de tratar de asimilar sus limitaciones e imposiciones, empecé a ver cómo en estas clasificaciones también hay un fuerte asunto de clase social, de nivel económico. La discriminación racial esta intrínsicamente relacionada con la clase social, somos discriminados tanto por el color de la piel como por nuestros ingresos económicos…. ¡Que también es completamente relativo! En mi caso, para UC Berkeley soy una estudiante de bajo ingreso; para los habitantes de mi vereda en Colombia, soy una persona de alto ingreso, especialmente porque vivo en Estados Unidos y "fácilmente" gano dólares; para mí misma soy millonaria, porque tengo plantas y amor en cantidades ilimitadas.
Todas estas experiencias como estudiante de posgrado en UC Berkeley, me han mostrado una vez la relatividad de la vida! Sin importar el color de la piel o la clase social,
TODOS
deberíamos tener el derecho a
recibir
apoyo cuando lo necesitamos y el deber de
dar
apoyo cuando podamos darlo, al fin y al cabo, todos somos gente arcoíris!
I grew up in Colombia, a country where the vast majority of the population is, from the US perspective, "people of color". Of course, we don't use this term, we identify more with the word "mestizo", which in its deeper meaning represents a long history of cultural blending. When I arrived at UC Berkeley, I was classified as a "minority" student and a "person of color". This classification felt very strange for me because I never identified with a group based on the color of my skin, because I feel that I belong to a large Latin American "majority"; because here, in the US, I have seen Latinos with milk-white skin, but classified as a "person of color", I have seen "whites" with golden and sometimes even chocolate skins; I have seen "people of color" with a "white" mindset and I have seen "whites" with a mestizo mindset.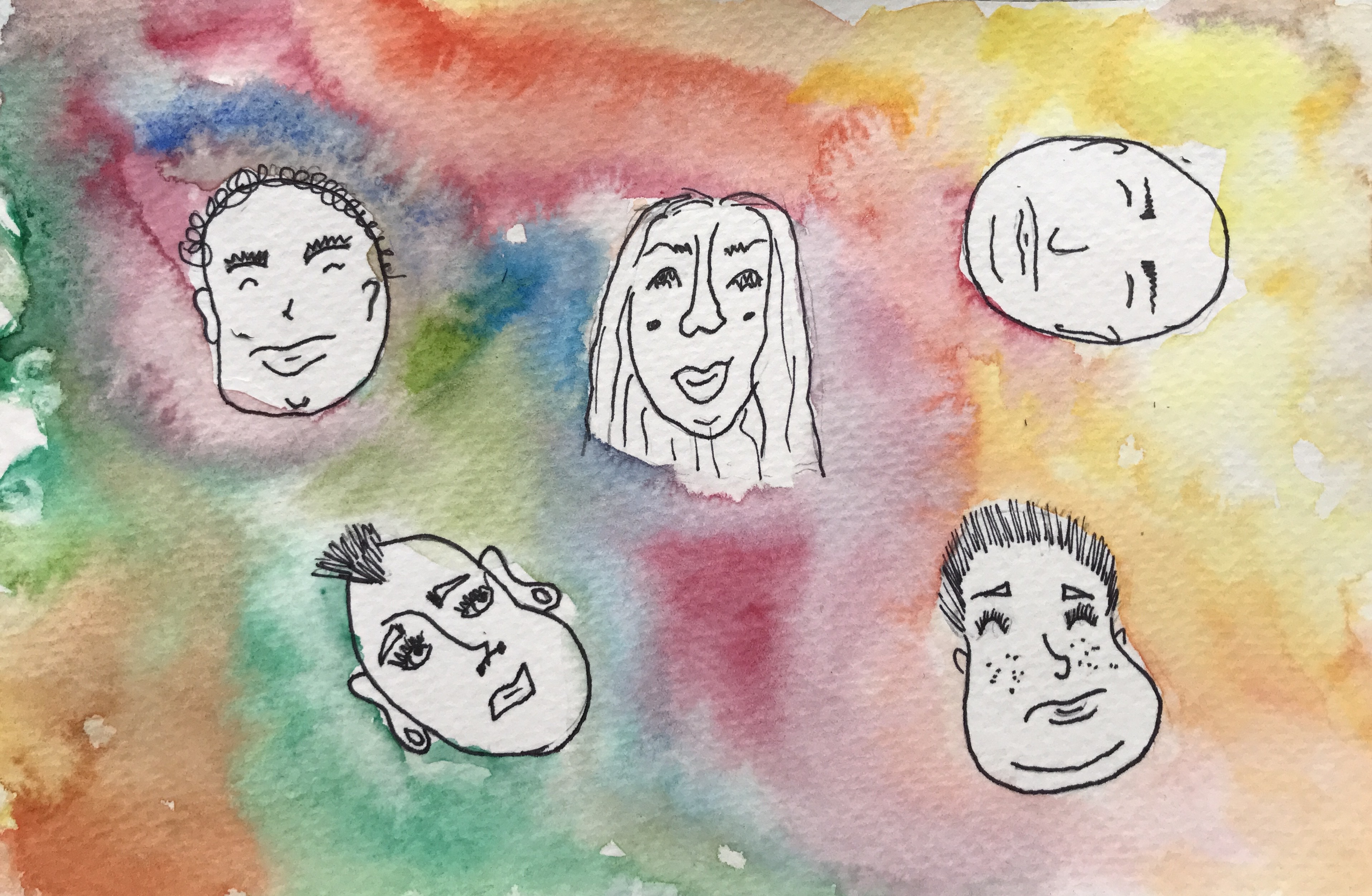 After the assigned classification I was confronted with the barriers that the classification itself creates, with the cultural burden of being a "minority". My antidote was to classify myself as a "rainbow person" and include in this category the whole range of colors that exist in skins, hearts, and mentalities.
As I tried to understand these racial classifications, to assimilate their limitations and impositions, I began to see how these classifications also have a strong social class or economic status background. Racial discrimination is intrinsically related to social class, we are discriminated as much by the color of our skin as by our income .... which is also completely relative! In my case, to UC Berkeley I am a low-income student; to inhabitants of my hometown in Colombia, I am a high-income person, especially as I live in the United States and "easily" earn dollars; to myself I am a millionaire, because I am surrounded with what I love (plants and friends) in unlimited amounts.
All these experiences as a graduate student at UC Berkeley have once again shown me the relativity of life! Regardless of skin color or social class, we should
ALL
have the right to
receive
support when we need it and the duty to
give
support when we can give it; after all, we are all rainbow people!
Vincent Agoe
Waiting to Breathe

Vincent, UC Berkeley MLA '18, wrote this piece as part of an internal office creative space exercise during the summer of 2020 in Portland, Oregon, following a weekend of unrest after
the murder of George Floyd. In the piece, Vincent reflects on how the rest of the country was responding, and how his work as a landscape architect ties into that process.
With cities' public space being transformed overnight, what does this represent for our future?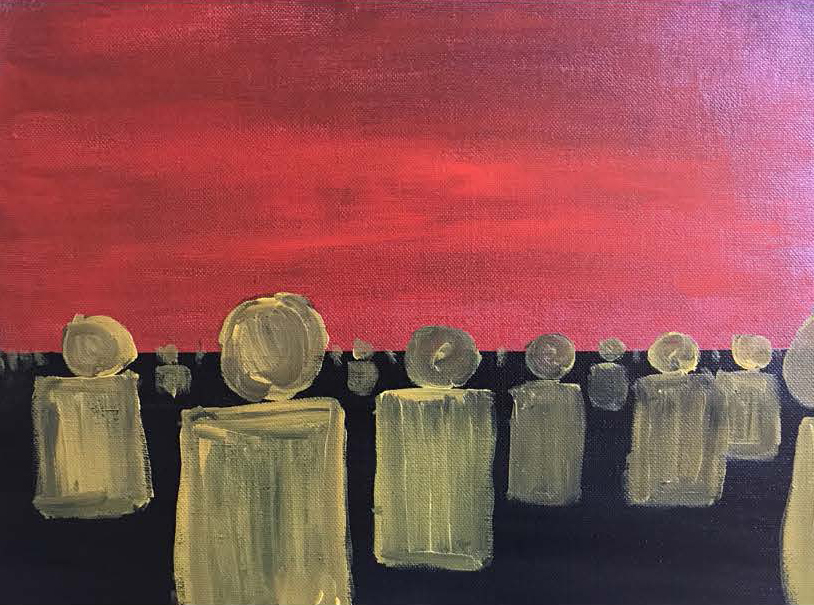 Breath In.
Breath Out.
Release.
on day five or six of hearing continuous flashbangs and helicopters overhead each night
I finally understood what it meant to be angry
watching a nation hold its breath
because one of us had lost his own
for nearly a week or more I had held my breath anxiously
in a room all by myself wondering if my work and my identity could co-exist
watching
as the city I had called home began to transform
awaken
and reveal itself to me
six or seven blocks away
through its parks and "public" spaces
as some of its citizens held their breath and looked on in disbelief
as I watched the nightly 6pm protests that took over the city's streets
and galvanized hundreds from their couches
I realized that
when your breath has been held for so long
and all you want to do is breathe
nothing else seems to matter
when that Monday morning came and I finally exhaled
I knew I had a long week ahead
I also knew I was proverbially late to the party
and had a lot of learning to do
I listened
as the streets screamed
we've been here before
in my bewildered state of how different my world seemed
from the one I had imagined it to be
in those moments when the world seemed to have turned upside down
I thought to myself perhaps this is right side up
and I have been walking on the ceiling the entire time
Inhale.
Exhale.
Release.
Rinse and repeat.
Demetrius El Gant
The Blood and Bones of Landscape Architecture:

My Afro-Indigenous American View of the Issue

Demetrius, Academy of Art AA '24, shares his
Afro-Indigenous American perspective on the
state of landscape architecture.